HERITAGE OAKS RV PARK MAPS & RULES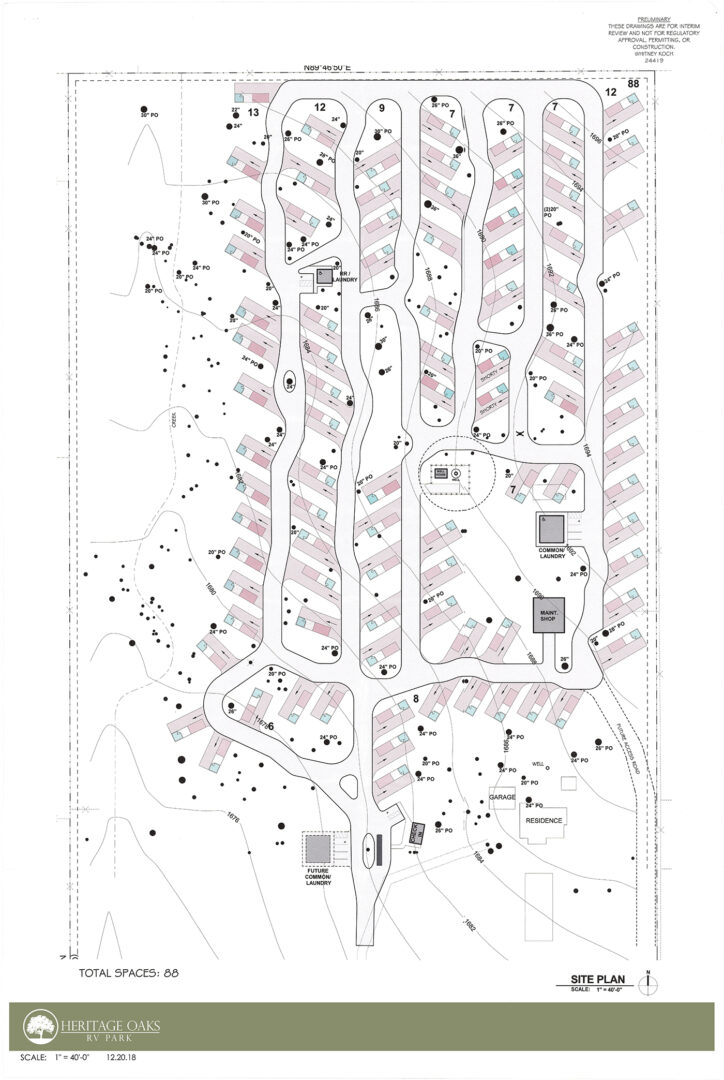 FACILITIES LOCATED ON THE PREMISES:
Smoking is prohibited in all common areas, offices and facilities located on the Premises.
Consumption of alcohol to excess in the common areas and facilities located on the Premises is prohibited.
Licensee may only access common areas and facilities located on the Premises during the hours posted on or near the specific common area or facility.
Licensee must wear proper attire, including but not limited to, shoes and shirts.
Licensee may host private parties and gatherings with pre-approval by Licensor. Licensor is not required to allow such private parties or gatherings and may deny Licensee's request for such in its sole discretion. Licensee must contact Licensor in person to reserve any facility located on the Premises. Licensee must pay a $100 cleaning deposit to Licensor to host a private party or gathering. All facilities used by Licensee for a private party or gathering must be cleaned by 10:00 a.m. the day following the private party or gathering and, Licensee's failure in this regard will result in a forfeiture of the $100 cleaning deposit
Licensee may not use vehicular pathways and roads located on the Premises for recreational activities.
LOCATION OF RV: Licensee shall be escorted to the RV Site by Licensor. Once Licensee's RV is sited at the RV Site, Licensee agrees not to change the RV's location or orientation without prior approval by Licensor.
RV RESTRICTIONS: Licensee's RV must be fewer than 15 years in age unless expressly approved by Licensor. The following are prohibited from being located on the Premises: Van conversions, pop-up campers, high/low trailers, cab over truck campers, and tents. Also, accessories such as awnings, sun shades, add-a-room structures, gazebos, decks, ramps, etc., that are ill-fitting or unsightly, in the sole discretion of Licensor, are prohibited unless expressly approved by Licensor prior to use.
QUIET TIME: Licensee agrees not to engage in activities that are disruptive to others staying on the Premises. Specifically, by way of illustration and not limitation, Licensee agrees to avoid making potentially disruptive noise from loud voices, televisions, radios, musical instruments, automobiles, power tools, etc., all times. Also, Licensee agrees to observe a quite time between the hours of 10 p.m. and 8 a.m. daily, during which time Licensee shall avoid engaging in any activity that disturbs other licensees staying on the Premises. Licensee shall be responsible for ensuring their guest's observance of these requirements
CHECK-OUT & IN TIME IS 12:00 P.M. / 1:00 P.M.– Due to previous reservations, if you plan on staying longer, the earlier you re-register, the better your chance of keeping your site.
SEWER: Sewer connection – a sewer connection at both ends of any sewer hose is required. Texas law requires that a sewer hose must be fastened using a connector.
CHILDREN: We want all children to be safe & have a good time, but always under the watchful eyes of a parent/guardian. Please use good judgement if you decide to leave your children on the Premises when you are gone. We are not responsible for their safety or welfare. You are liable for their behavior and safety.
GUESTS: All guests of Licensee must register with Licensor prior to entering Licensee's RV Site. Licensee shall pay a guest fee of $5 per day for each guest staying over 15 days during Licensee's occupation of the RV Site. Licensee shall not be charged a fee for guests under the age of 12 years, however, such guests are required to be registered as guests with Licensor. Licensee's adult guests may not occupy Licensee's RV Site for more than 30 days per calendar year. Licensee shall ensure that their guests comply with Licensor's rules and Licensee is responsible for the conduct of their guests and for all damages to the RV Site or Premises which is caused by their guest. At Licensor's request, any guest that is not in compliance with the terms of this Agreement must leave the RV Site and Premises immediately without further notice. Failure of any guest to comply with such request shall be deemed a material breach of this Agreement by Licensee.
PETS: Please maintain control of your pets. The limit is for only 2 pets per RV Site. All pets shall be leashed at all times. Licensee must clean up after their pets. Do not leave pets tethered on a leash or chain or in a pen outside overnight or when you are absent. Absolutely no pets other than service animals are allowed in the office or laundry! The same rules apply for cats as for dogs. Cats are inside pets only. If outside, they must be on a leash with the owner at all times. These rules are for health reasons as well as the respect for others. NO AGGRESSIVE BREED OF DOGS ARE ALLOWED ON THE PREMISES.
RV SITE MAINTENANCE AND TRASH SERVICE: All dumpsters located on the Premises are for household trash only. All garbage must be bagged and tied before being placed in the dumpster and all boxes must be broken down. DO NOT leave trash outside by your RV. Cleanliness of the Premises is important to us. RV Sites are to be kept clean and orderly, as determined by Licensor. Washing vehicles on the Premises is prohibited, however; keeping your RV clean and in good repair is required. Licensee is required to maintain their RV Site in a clean and clutter free condition. Licensee may not make any change to the RV Site landscape without prior written consent from Licensor. Fences of any kind are strictly prohibited. Licensee may not erect any structure composed of vinyl or fabric.
BUSINESS ACTIVITIES OF LICENSEE: Licensee shall not engage in any business activity on the Premises or RV Site without the prior written approval of Licensor. The Premises are to be used by Licensee solely for the purposes authorized pursuant to this Agreement.
LAUNDRY ROOM: Laundry rooms located on the Premises may be used by Licensee and their guests only. Licensee must observe the hours of use for the laundry room as posted by Licensor. All posted laundry room signs must be observed by Licensee. All laundry machines must be cleaned by Licensee after use, including, but not limited to, wiping the outside and inside of such machine, removing any soap residue, and emptying the lint trays. Licensee may not use any dyes in the laundry machines nor shall Licensee overload or abuse such machines. Pet bedding may not be cleaned or dried using laundry machines provided on the Premises. Licensor is not responsible for Licensee's lost, damaged, or stolen articles.
GOLF CARS: Licensee may operate golf carts on vehicular pathways and roads on the Premises provided that: 1) such use does not constitute a nuisance or disturb the other licensees occupying RV Sites on the Premises; and 2) such golf carts are operated only by adults that have a government issued driver's license.
INTERNET: Wireless Internet is for licensees. For problems contact Licensor so the problem can be reported to SPECTRUM.
FIREWORKS AND FIREARMS: The possession or detonation of fireworks is strictly prohibited on the Premises, no exception. Any firearm or other weapon legally possessed by Licensee must remain concealed in Licensee's RV. A single discharge or display of any firearm or weapon (including, but not limited to, BB guns, knives, bow and arrows, etc.) by Licensee shall be deemed a material breach of this Agreement. Licensee shall not openly carry any firearm.
VEHICLES AND PARKING: Licensee is permitted up to two (2) vehicles per RV Site if sufficient room exists. Licensee shall park in the carport provided at the RV Site. Licensor reserves the right to restrict the use of or refuse access to the Premises by vehicles deemed a nuisance or disturbance, in the sole discretion of Licensor. Only adults with a government issued driver's license shall operate automobiles on the Premises. Licensee may not store any vehicle on the Premises for longer than fourteen (14) days without operating such vehicle unless Licensor consents in writing. A speed limit of ten (10) miles per hour will be strictly enforced for vehicular traffic on the Premises. The following vehicles are prohibited from being on the Premises: Large commercial vehicles, Commercial semi or trailer pulling trucks, Utility trailers, Boats, Jet skis, Campers, All terrain vehicles, Dirt bikes, Go-carts, Any vehicle with missing body panels, and All other vehicles except for golf carts and properly operating and registered passenger vehicles.
SPEED LIMIT: Please observe a speed limit of no more than 10 mph.
GENERATORS PROHIBITED: Licensee may not use a generator on the Premises at any time for any reason.
PROHIBITED APPLIANCES: Licensee may not set up clothes-lines on the Premises. Also, Licensee is prohibited from using electric space heaters and electrical cheater boxes or pigtails. Heritage Oakes RV Park is not responsible for any electrical components on RV's.
NO DIGGING: Licensee is strictly prohibited from digging any hole or excavation on the Premises without the prior written approval of Licensor. Extensive underground utility and other facilities are located throughout the Premises and any digging or subterranean disturbance will result in damage to these facilities and/or injury to the person performing such.
CONDUCT: Disorderly conduct, drunkenness, illegal drugs, obscene language, obnoxious, disruptive or vulgar behavior will not be tolerated. They will be reason for immediate removal without refund.
DRUGS: Illegal drugs of any form are prohibited on the Premises of Heritage Oaks RV Park. Person(s) caught in violation of this rule are subject to immediate removal without a refund. Person(s) knowing of any illegal activity are encouraged to notify Licensor immediately. Any information reported will be strictly confidential, to the extent possible.
SALE OF RV: Prior to Licensee consummating the sale of any RV located on the Premises: 1) the prospective buyer must fill out and sign a HERITAGE OAKS RV PARK LICENSE APPLICATION AND AGREEMENT; and, 2) Licensor must confirm in writing that the prospective purchaser has been approved as a licensee.
LIABILITY: All facilities and equipment on the Premises are intended for the convenience of the RV Park's licensees. Any and all persons using the Premises do so at THEIR OWN RISK and consent. Licensor is NOT RESPONSIBLE for accidents due to fire, theft, wind, flood, personal negligence, acts of God or other unfortunate circumstances. Licensee is financially responsible for all individuals or pets at their RV Site and for any/all damage to the Premises.
These rules are for health, cleanliness, legality and welfare of all.\\
LIQUIDATED DAMAGES: In the event of a breach of this Agreement by Licensee, Licensee acknowledges and agrees that if he/she fails to vacate the Premises when directed by Licensor that Licensor will be damaged and that such damage will be uncertain or difficult to ascertain monetarily with specificity; therefore, Licensee agrees to pay Licensor $500 per day for each calendar day, or part therefor, that Licensee remains on the Premises after receiving notice to vacate. Said $500 day payment will be due immediately. In the event that Licensor is forced to file a lawsuit to enforce this Agreement due to Licensee's breach hereof, Licensee agrees that these damages shall continue to accrue until the date a final judgment is rendered by the Court in favor of Licensor. Licensee agrees that the damages provided for in this paragraph are reasonable and are not intended to be punitive in nature, but rather, are the parties' best approximation of the damages actually incurred by Licensor due to lost time, lost revenue, etc.
LICENSOR RESERVES THE RIGHT TO TERMINATE LICENSEE'S RIGHT TO BE PRESENT ON THE PREMISES OR REFUSE SERVICE TO ANY PERSON OR PERSONS WHO BREAKS OR DISREGARDS ANY RULES OUTLINED HEREUNDER AND, IN THAT EVENT, LICENSEE SHALL NOT BE ISSUED ANY REFUND. LICENSOR RESERVES THE RIGHT TO REFUSE ANYONE ACCESS TO THE PREMISES. LICENSOR RESERVES THE RIGHT TO MAKE CHANGES TO THE RULES, REGULATIONS AND FEES WHEN NECESSARY.
We know most RV owners and licensees to be some of the most helpful, honest and kind people in the world with good common sense, needing no written rules as they already honor the welfare and rights of others. These rules are to guide others who sometimes need some guidance and direction.
LICENSOR: Heritage Oaks RV Park
Website: Heritageoaksrvpark.com
Email: [email protected]
Office Phone: (830) 992-3057: Office Hours: 8 a.m. through 9 p.m.